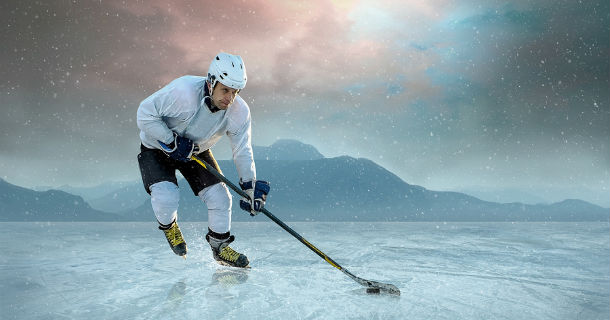 Avoiding Outdoor Hockey Injuries.
By Dr. Kenton Fibel
January 5, 2015
We hope you all had a wonderful celebration of the holidays and New Year with friends and family. Hopefully you had a chance to watch the NHL's Winter Classic on New Year's Day as the Washington Capitals defeated the Chicago Blackhawks in the final seconds of the game at Nationals Park, turning this thrilling finish into an instant classic. The experience of playing outdoor hockey is sure to be a memorable one, but it can pose some unique safety challenges. Here are some tips to address these challenges while you enjoy the game of hockey outdoors.
Wear proper equipment: Players tend to decrease the amount of hockey gear they are wearing when they are playing outdoors even though the same risks of injury are still present as with playing indoor hockey. You should wear all of the same equipment including your gloves and helmet to avoid injury.
Avoid playing if visibility is poor: During certain times of day, the reflection of the sun off the ice can make visibility difficult and can increase your chance of injury if you are unable to see other players or the puck. You can also risk damaging your eyes if there is a significant glare.
Wear sunscreen: Similar to the last tip, the reflection of the sun off the ice can increase your risk of sunburns to the exposed area of your body which is typically the face. Don't forget to use your sunscreen and reapply as needed!
Wear warm clothing: Many times the outdoor temperatures are much lower than those inside ice rinks especially if there is wind. Remember to add layers of warm clothing as needed to your regular hockey gear.
Avoid areas of thin ice: While this is not a risk for all outdoor hockey play, this is one of the biggest concerns for anyone playing pond hockey. Prior to children playing, an adult should check to make sure the ice is thick enough. If there are areas that appear thin, they should be noted prior to playing and should be avoided. Players should not try to retrieve a puck that goes near these suspected areas of thin ice. They should leave the puck and simply get a new one to continue play just as a golfer would do if they hit their ball out of bounds. It is not worth the risk of falling through the thin ice.
May your 2015 be filled with good health and happiness for you and your family and lots of hockey!
Dr. Kenton Fibel is a Sports Medicine Physician at Hospital for Special Surgery. He completed a Sports Medicine fellowship at HSS where he served as an assistant team physician for several sports teams including the New York Giants, New York Mets, and several local high school football teams. Dr. Fibel has an interest in caring for athletes who play a variety of sports and has an appreciation for the demands of higher level athletics. His expertise lies in his conservative, non-surgical approach to sports-related injuries including those that are acute, chronic, or from overuse.
Back